The Step combines a beautiful smoked glass appearance with reliability and excellent drink quality. The In-Touch selection system allows you to fully customise your drink, altering the amount of sugar & milk to be added along with preparing the drink weaker or stronger- the choice is yours. The Quick Code function provides a unique number for your perfect beverage and allowing you to quickly and simply reproduce your signature beverage each time.
It's video display grabs the consumers attention and enhances the user experience. Providing user instructions and product information whilst the drink is freshly prepared. It can also be used to run in house promotions or advertisements.
The Step features a built in energy saving function which learns when to enter eco mode in order to save the most energy. It will also sense a user approaching the machine to bring it out of eco mode ready to make your drink.
<script src="//fast.wistia.com/embed/medias/91xqs4z7k6.jsonp" async></script><script src="//fast.wistia.com/assets/external/E-v1.js" async></script><div class="wistia_responsive_padding" style="padding:56.25% 0 0 0;position:relative;"><div class="wistia_responsive_wrapper" style="height:100%;left:0;position:absolute;top:0;width:100%;"><span class="wistia_embed wistia_async_91xqs4z7k6 popover=true popoverAnimateThumbnail=true videoFoam=true" style="display:inline-block;height:100%;width:100%"> </span></div></div>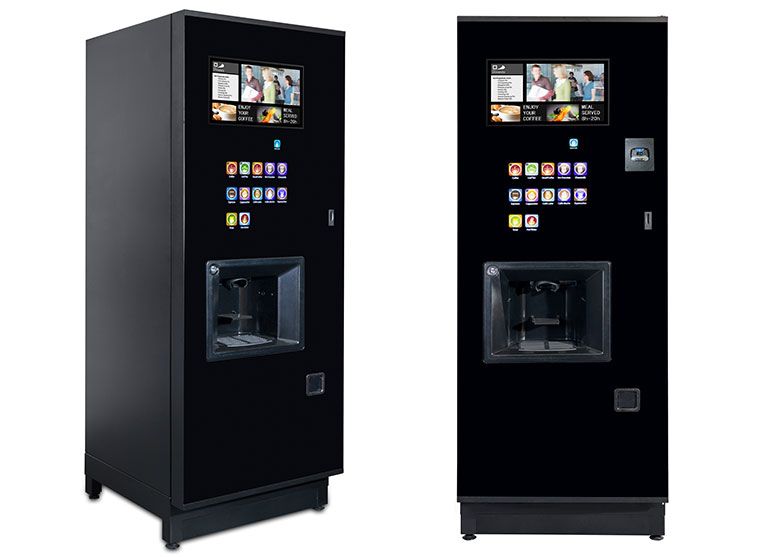 Available as a Bean to cup machine.
Quick code facility.
20″ video screen which can be utilised for promotions and advertisements.
Touch capacitive back-lit buttons.
Easy to clean smoked glass front.
Hot and cold drinks available.
Dimensions
Height: 1830mm
Depth: 710mm
Width: 700mm
Weight: 120kg
Electrical Rating
Voltage: 230v AC
Current: 13 amp
Frequency: 50 Hz
Energy Consumption
86 watt hrs/hr
EVA / EMP Rating: A+
Plumbing requirements
Water should be supplied from a rising main.
The pipe work should be no more than one metre from the machine.
The pipe work should be terminated with a 15mm stopcock
Espresso
Americano
Cappuccino
Mocha
Latte
Cafe au lait
Hot Chocolate
Black Tea
Tea with Milk
Hot Water
Flavoured cold drinks
Cold water
Intelligent Energy Learn software which detects usage.
The Step beverage machine incorporates the most advanced energy saving mode available, saving up to 30% in
energy consumption.
A+ grade energy rating.
Paperless brewing system to reduce waste.
90% of the Step is recyclable at the end of its life.
Save time and money
On average, staff will take 5 minutes to make themselves a hot drink. For a company with 30 staff, this would equate to 7.5 hours downtime a day for 3 drinks per person. At £12 per hour wages, that's £23,400 a year spent on time making drinks the traditional way...
...A drinks machine can make a delicious drink in 20 seconds.
Internal Culture
People are demanding better quality coffee, or spending time away from the business to buy it. Bringing a bean to cup machine into your working environment changes all that – and creates a place where staff can engage with each other. Morale is always improved when fresh coffee is available in the workplace.
Hassle Free
You can opt for our full servicing and supply package and we'll take care of everything, ensuring your machine is kept clean, serviced for optimal performance and manage supplies. Or, for our smaller machines, we can offer training to keep your machine clean, although our engineers are always on call should you require technical support.
New 9 Bar pressurised espresso system for increased coffee extraction
19″ HD Display – ideal for running in house promotions and advertising
Touch Screen
Customisable drink selections
Syrup Shot available
Customisable screen branding
9oz or 12oz Drink size available
Menus are available in a range of languages
Dimensions
Height: 1830mm
Depth: 765mm
Width: 710mm
Weight: 165kg
Electrical Rating
Voltage: 230v AC
Current: 13 amp
Frequency: 50 Hz
Energy Consumption
Idle phase: 120 watt hrs / hr
Vending phase: 510 watt hrs
EVA / EMP Rating: B
Espresso
Flat white
Americano
Cappuccino
Double Espresso
Latte
Latte Macchiato
Hot Chocolate
Black Tea
Tea with Milk
Energy management software reduces power use when inactive
B Grade energy rating
A timed energy saving mode is available to further reduce power consumption during specified periods