The Coffetek Vitro is available in a range of configurations depending on the types of drink you would like. It is available as an instant only machine for rapid production of your favourite drinks, but for the more coffee conscious it is also available with a bean to cup system meaning your bean of choice is freshly ground before having every drop of flavour extracted by the high pressure brewing system. Tea lovers aren't forgotten with the option to have both bean to cup drinks and freshly brewed tea within the same machine.
Its stylish smoked glass front panel makes the Vitro the centre piece of any workplace refreshment area, whilst its intuitive touch button interface makes it a joy to use.
<script src="//fast.wistia.com/embed/medias/2sdhzb71l5.jsonp" async></script><script src="//fast.wistia.com/assets/external/E-v1.js" async></script><div class="wistia_responsive_padding" style="padding:56.25% 0 0 0;position:relative;"><div class="wistia_responsive_wrapper" style="height:100%;left:0;position:absolute;top:0;width:100%;"><span class="wistia_embed wistia_async_2sdhzb71l5 popover=true popoverAnimateThumbnail=true videoFoam=true" style="display:inline-block;height:100%;width:100%"> </span></div></div>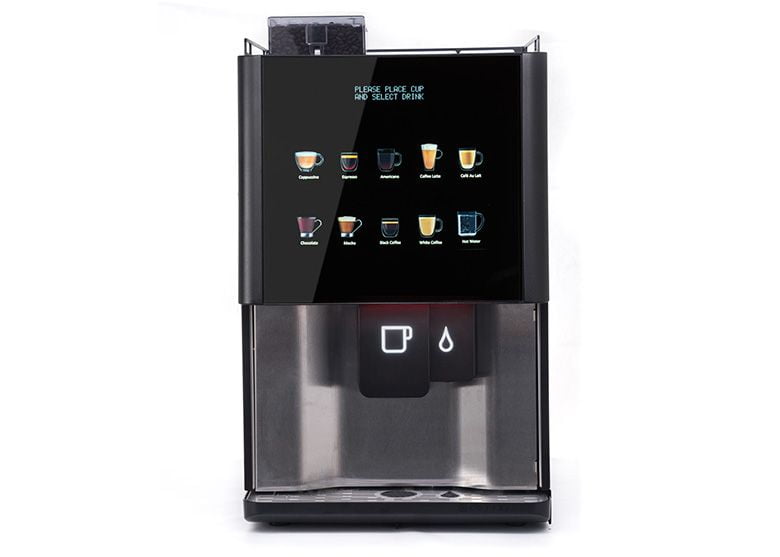 Bean to cup.
Stylish smoked glass front panel.
led back lit buttons.
high pressure brewing system.
Fresh leaf tea brewing system.
Wide range of drinks available.
Go-large option available.
For simplicity these values have been taken from the largest Vitro model.
Dimensions
Height: 700mm
Depth: 510mm
Width: 420mm
Weight: 45kg
Electrical Rating
Voltage: 230v AC
Current: 12 amp
Frequency: 50 Hz
Energy Consumption
Idle phase: 88 watt hrs / hr
EVA / EMP Rating: A+
Plumbing requirements
Water should be supplied from a rising main.
The pipe work should be no more than one metre from the machine.
The pipe work should be terminated with a 15mm stopcock
Espresso
Flat white
Americano
Cappuccino
Latte
Hot Chocolate
Black Tea
Tea with Milk
Mocha
Cafe au lait
Advanced power saving options reduce power consumption by up to 30%.
90% of the Vitros components are recyclable at the end of its life.
A+ Grade energy rating.
Paperless brewing systems to reduce waste.
Save time and money
On average, staff will take 5 minutes to make themselves a hot drink. For a company with 30 staff, this would equate to 7.5 hours downtime a day for 3 drinks per person. At £12 per hour wages, that's £23,400 a year spent on time making drinks the traditional way...
...A drinks machine can make a delicious drink in 20 seconds.
Internal Culture
People are demanding better quality coffee, or spending time away from the business to buy it. Bringing a bean to cup machine into your working environment changes all that – and creates a place where staff can engage with each other. Morale is always improved when fresh coffee is available in the workplace.
Hassle Free
You can opt for our full servicing and supply package and we'll take care of everything, ensuring your machine is kept clean, serviced for optimal performance and manage supplies. Or, for our smaller machines, we can offer training to keep your machine clean, although our engineers are always on call should you require technical support.