The Shopper 2 has been designed to meet the varying needs of a 24 hour refreshment service. Products are stocked into individual compartments on 9 rotating shelves. Trays can be easily configured to hold a selections of plated main meals to small snack items, maximising the available space and offering customers a wide choice of products.
The Shopper 2 also features solutions to help reduce your carbon footprint. The latest energy saving software reduces energy consumption. In energy saving mode, the Shopper 2 uses 13% less energy when in Idle mode. Vend door heaters can also be switched off when ambient humidity and temperature conditions permit.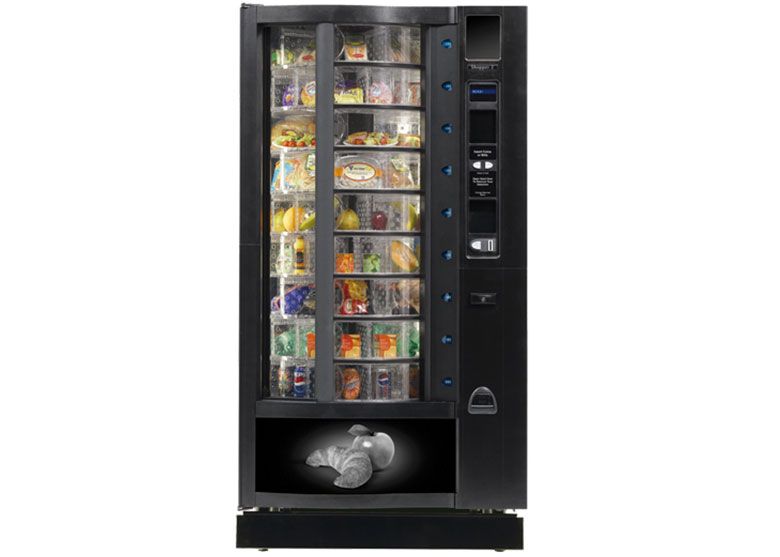 9 levels each with 127mm (5″) tall vend doors allowing for optimum product visibility and easy access for users.
Powered vend doors on all levels allow easy, one handed operation.
Two way drug rotation speeds selection time and increases sales.
Foam-in-place cabinet and door increases overall operating efficiency and eliminates sealing, condensation and temperature variation issues.
New refrigeration design and improves airflow provides the most even temperature distribution in the industry.
Shopper 2 machines can help provide a healthy vending option for schools, sports centres, canteens etc.
Individual selection pricing increases flexibility.
Dimensions
Height: 1830mm
Depth: 782mm
Width: 968mm
Weight: 323kg
Electrical Rating
Voltage: 230v AC
Current: 13 amp
Frequency: 50 Hz
Energy Consumption
EMP/EVA energy rating: A
Power saving technology reduces energy consumption whilst keeping the machine in a ready state.
Uses 13% less energy than in idle mode.
Vend door heaters can also be switched off when ambient humidity and temperature conditions permit to further reduce the power consumption.
Save time and money
On average, staff will take 5 minutes to make themselves a hot drink. For a company with 30 staff, this would equate to 7.5 hours downtime a day for 3 drinks per person. At £12 per hour wages, that's £23,400 a year spent on time making drinks the traditional way...
...A drinks machine can make a delicious drink in 20 seconds.
Internal Culture
People are demanding better quality coffee, or spending time away from the business to buy it. Bringing a bean to cup machine into your working environment changes all that – and creates a place where staff can engage with each other. Morale is always improved when fresh coffee is available in the workplace.
Hassle Free
You can opt for our full servicing and supply package and we'll take care of everything, ensuring your machine is kept clean, serviced for optimal performance and manage supplies. Or, for our smaller machines, we can offer training to keep your machine clean, although our engineers are always on call should you require technical support.