Efficient both in its use of space and in its use of energy, the high-powered FilterFlow Automatic Water Boiler is perfect for busy staff rooms and cafe's, anywhere where you have to wait for the kettle to boil.
Providing hot water on tap 24/7, the boiler also comes with a filtration system built-in to improve water quality. You can modify the settings via the clever colour touchscreen display, while the boiler is designed to save energy via its eco mode which learns usage patterns and switches to 50% volume.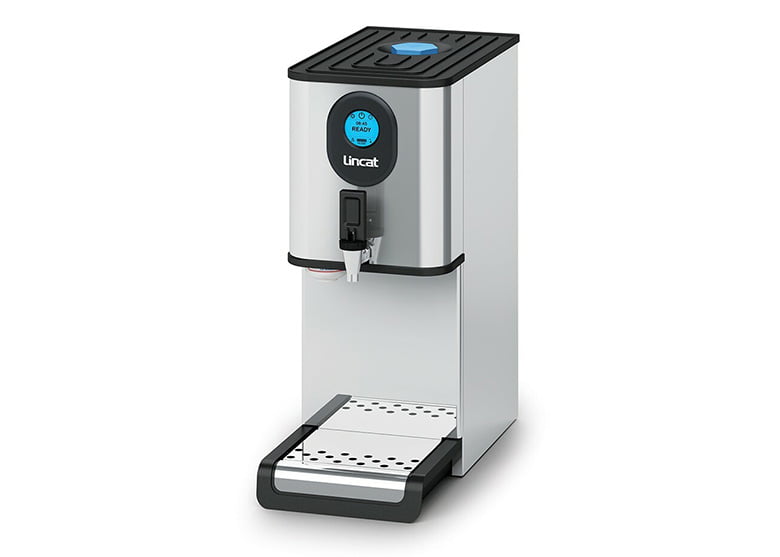 31 litres per hour output. (~155 cups)
15 litre capacity
Automatic fill.
Narrow footprint saves precious counter space.
Built in water filtration system.
Eco setting.
7 Day timer for automatic on/off periods.
Quick and easy dispense tap.
Dimensions
Height: 596mm
Depth: 525mm
Width: 250mm
weight: 13.4 kg
Electrical Rating
Voltage: 230v AC
Current: 13 amp
Frequency: 50 Hz
Energy Consumption
Plumbing requirements
Water should be supplied from a rising main.
The pipe work should be no more than one metre from the machine.
The pipe work should be terminated with a 15mm stopcock
Hot Water
Eco setting reduces the volume of boiling water by 50% for quieter periods. The intelligent predictive eco setting learns usage patterns and switches between eco mode and standard mode to deliver the required hot water output in the most economical way
7-day timer allows the boiler to be programmed to switch off overnight or at weekends to conserve energy
Save time and money
On average, staff will take 5 minutes to make themselves a hot drink. For a company with 30 staff, this would equate to 7.5 hours downtime a day for 3 drinks per person. At £12 per hour wages, that's £23,400 a year spent on time making drinks the traditional way...
...A drinks machine can make a delicious drink in 20 seconds.
Internal Culture
People are demanding better quality coffee, or spending time away from the business to buy it. Bringing a bean to cup machine into your working environment changes all that – and creates a place where staff can engage with each other. Morale is always improved when fresh coffee is available in the workplace.
Hassle Free
You can opt for our full servicing and supply package and we'll take care of everything, ensuring your machine is kept clean, serviced for optimal performance and manage supplies. Or, for our smaller machines, we can offer training to keep your machine clean, although our engineers are always on call should you require technical support.