Sanremo EVO on demand grinder
Fast Dosing Technology, maxmising freshness and aroma. The SR70 EVO Titanium, super fast grinding technology lasts x2 longer than your standard grinder, maintains grind consistency whilst operating at just over 2 seconds per grind. Plus has an automatic cooling fan great for venues with high demand looking to offer premium quality in high volumes.
On demand grinders mean you only grind what you need, when you need it. This eliminates waste and ensures your customers are always getting the freshest coffee for the best possible flavour.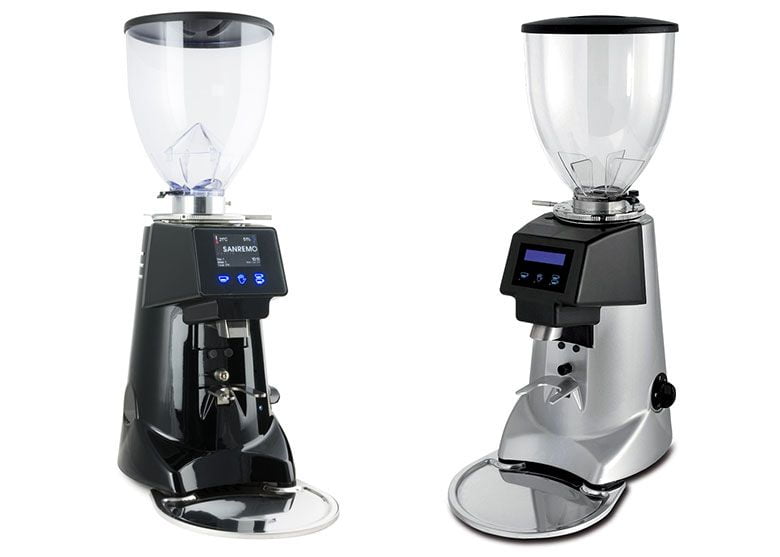 On demand grinder.
Super fast dosing – 7g in 1.7 seconds.
1.5kg Hopper capacity.
Quiet operation.
Auto cooling system maintains internal temperature.
Internal temperature and humidity display ensures coffee quality.
Micrometric grind adjustment.
Dimensions
Height: 610mm
Depth: 270mm
Width: 230mm
Weight: 14kg
Electrical Rating
Voltage: 230v AC
Current: 13 amp
Frequency: 50 Hz
Energy Consumption
Lower power consumption than standard grinders.
Save time and money
On average, staff will take 5 minutes to make themselves a hot drink. For a company with 30 staff, this would equate to 7.5 hours downtime a day for 3 drinks per person. At £12 per hour wages, that's £23,400 a year spent on time making drinks the traditional way...
...A drinks machine can make a delicious drink in 20 seconds.
Internal Culture
People are demanding better quality coffee, or spending time away from the business to buy it. Bringing a bean to cup machine into your working environment changes all that – and creates a place where staff can engage with each other. Morale is always improved when fresh coffee is available in the workplace.
Hassle Free
You can opt for our full servicing and supply package and we'll take care of everything, ensuring your machine is kept clean, serviced for optimal performance and manage supplies. Or, for our smaller machines, we can offer training to keep your machine clean, although our engineers are always on call should you require technical support.