Sanremo Zoe 2 group compact
The Zoe Compact take things one step further in order to meet customer requirements. Its features, technology and high level of performance are now available in an even more compact format and, thanks to its unique character and size, it can also be adapted to smaller spaces, so you can appreciate this little gem with no limitations.
The fact that its frame and shell coincide makes the Zoe a unique and incredibly sturdy machine among those of its kind. Moreover, the addition of a range of bright colours to choose from makes it extremely versatile.
Thanks to the presence of a traditional heat exchanger system with thermosyphon circulation and units, allowing for constant thermal stability, Zoe is able to guarantee top-quality coffee every time.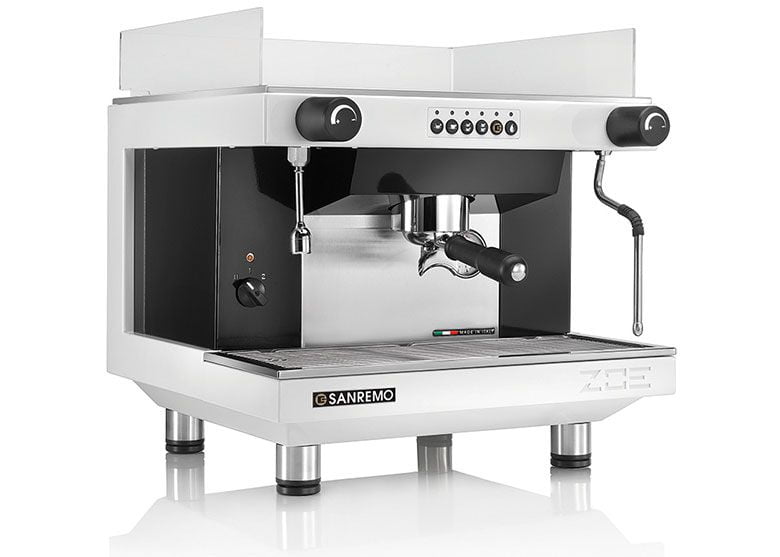 Variety of colours available to make your Zoe your own.
Programmable hot water.
Copper boiler and pipes.
Automatic boiler refill.
Electric coffee counter.
Double scale pressure gauge.
Height adjustable feet.
Built in volumetric pump.
Pre-infusion selection.
Cup warmer.
Dimensions
Height: 543mm
Depth: 528mm
Width: 530mm
Weight: 50kg
Electrical Rating
Voltage: 230v AC
Current: 13 amp
Frequency: 50 Hz
Energy Consumption
Plumbing requirements
Water should be supplied from a rising main.
The pipe work should be no more than one metre from the machine.
The pipe work should be terminated with a 15mm stopcock
Espresso
Americano
Double Espresso
Hot Water
Save time and money
On average, staff will take 5 minutes to make themselves a hot drink. For a company with 30 staff, this would equate to 7.5 hours downtime a day for 3 drinks per person. At £12 per hour wages, that's £23,400 a year spent on time making drinks the traditional way...
...A drinks machine can make a delicious drink in 20 seconds.
Internal Culture
People are demanding better quality coffee, or spending time away from the business to buy it. Bringing a bean to cup machine into your working environment changes all that – and creates a place where staff can engage with each other. Morale is always improved when fresh coffee is available in the workplace.
Hassle Free
You can opt for our full servicing and supply package and we'll take care of everything, ensuring your machine is kept clean, serviced for optimal performance and manage supplies. Or, for our smaller machines, we can offer training to keep your machine clean, although our engineers are always on call should you require technical support.