The Ecuador ASD is a high performance bean to cup coffee machine with integrated multimedia display. Striking design comprising real black glass fascia enhanced with LED lighting and complete with touch screen user interface. The Ecuador ASD allows for two drink sizes to be programmed into the machine for those moments in life when a normal sized coffee just won't cut it.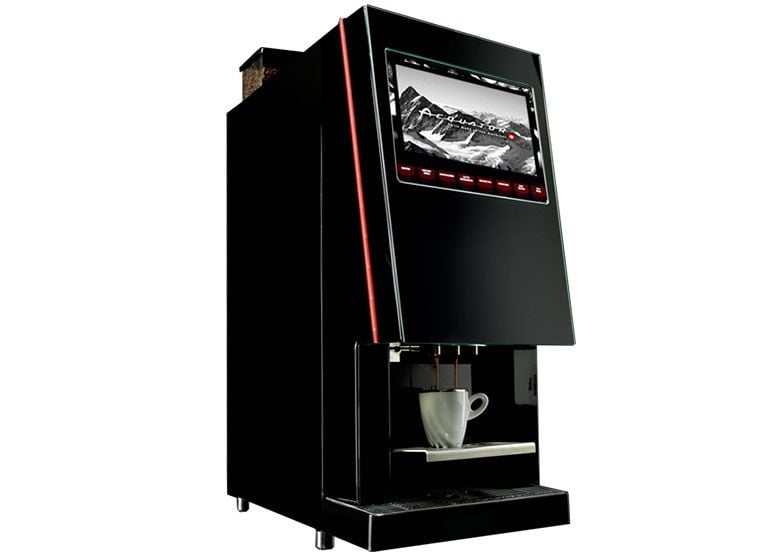 Bean to cup.
Touch screen.
Optional menu for two drink sizes.
Adjustable cup support.
Stylish black glass front panel.
Simple to clean and maintain.
Optional double grinder for a choice of beans or decaffeinated option.
Grinder guaranteed for 1 million grinds.
Programmable LED lights surrounding the front panel.
Dimensions
Height: 810mm
Depth: 600mm
Width: 320mm
Weight: 50kg
Electrical Rating
Voltage: 230v AC
Current: 13 amp
Frequency: 50 Hz
Energy Consumption
Plumbing requirements
Water should be supplied from a rising main.
The pipe work should be no more than one metre from the machine.
The pipe work should be terminated with a 15mm stopcock
Espresso
Mocha
Americano
Cappuccino
Latte
Hot Chocolate
Hot Water
Latte Macchiato
Described as energy efficient by the manufacturer.
Save time and money
On average, staff will take 5 minutes to make themselves a hot drink. For a company with 30 staff, this would equate to 7.5 hours downtime a day for 3 drinks per person. At £12 per hour wages, that's £23,400 a year spent on time making drinks the traditional way...
...A drinks machine can make a delicious drink in 20 seconds.
Internal Culture
People are demanding better quality coffee, or spending time away from the business to buy it. Bringing a bean to cup machine into your working environment changes all that – and creates a place where staff can engage with each other. Morale is always improved when fresh coffee is available in the workplace.
Hassle Free
You can opt for our full servicing and supply package and we'll take care of everything, ensuring your machine is kept clean, serviced for optimal performance and manage supplies. Or, for our smaller machines, we can offer training to keep your machine clean, although our engineers are always on call should you require technical support.