The Primo Whole Bean uses the latest brewing technology to deliver 12 tasty choices easily selected from the user friendly menu.
The interchangeable LED mood lighting gives the machine real user appeal.
Beans are freshly ground by the world renowned Ditting grinder and brewed in an Italian high pressure espresso system – creating coffees with a great crema, cappuccinos with a delicious foam and indulgent hot chocolate – perfect for boardrooms, offices, bars, showrooms and many other locations..
<script src="//fast.wistia.com/embed/medias/vggssitdzm.jsonp" async></script><script src="//fast.wistia.com/assets/external/E-v1.js" async></script><div class="wistia_responsive_padding" style="padding:56.25% 0 0 0;position:relative;"><div class="wistia_responsive_wrapper" style="height:100%;left:0;position:absolute;top:0;width:100%;"><span class="wistia_embed wistia_async_vggssitdzm popover=true popoverAnimateThumbnail=true videoFoam=true" style="display:inline-block;height:100%;width:100%"> </span></div></div>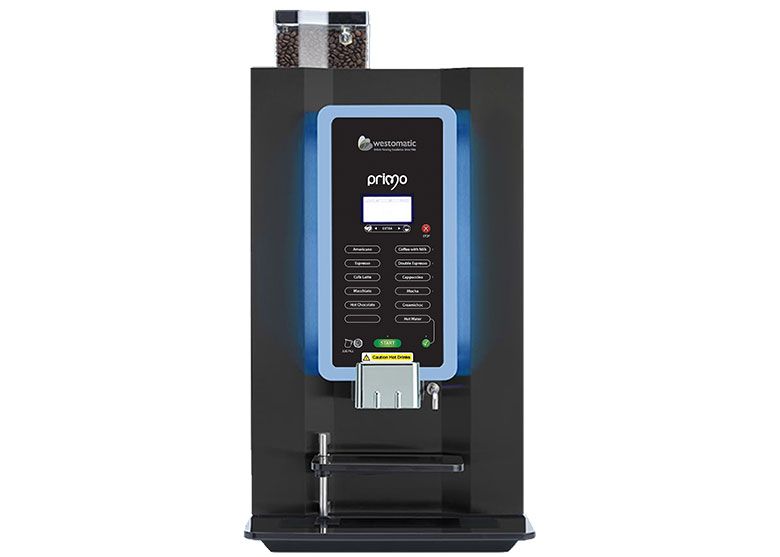 Italian high pressure espresso brewing system.
Renowned Swiss made Ditting ceramic grinder for consistent drink quality.
Large bean hopper for fewer top ups and interruptions to service.
Programmable LED mood lighting.
Touch sensitive keypad.
Quick vend times.
Dimensions
Height: 920mm
Depth: 564mm
Width: 402mm
Weight: 36kg
Electrical Rating
Voltage: 230v AC
Current: 13 amp
Frequency: 50 Hz
Energy Consumption
Idle phase: 682 w/h
EVA / EMP rating: A+
Plumbing requirements
Water should be supplied from a rising main.
The pipe work should be no more than one metre from the machine.
The pipe work should be terminated with a 15mm stopcock
Espresso
Mocha
Americano
Cappuccino
Latte
Hot Chocolate
Black Tea
Tea with Milk
Speciality teas
Hot Water
creamichoc
Cafe au lait
Double Espresso
Flat white
Latte Macchiato
A+ EVA / EMP rating.
Paperless brewing system.
Save time and money
On average, staff will take 5 minutes to make themselves a hot drink. For a company with 30 staff, this would equate to 7.5 hours downtime a day for 3 drinks per person. At £12 per hour wages, that's £23,400 a year spent on time making drinks the traditional way...
...A drinks machine can make a delicious drink in 20 seconds.
Internal Culture
People are demanding better quality coffee, or spending time away from the business to buy it. Bringing a bean to cup machine into your working environment changes all that – and creates a place where staff can engage with each other. Morale is always improved when fresh coffee is available in the workplace.
Hassle Free
You can opt for our full servicing and supply package and we'll take care of everything, ensuring your machine is kept clean, serviced for optimal performance and manage supplies. Or, for our smaller machines, we can offer training to keep your machine clean, although our engineers are always on call should you require technical support.