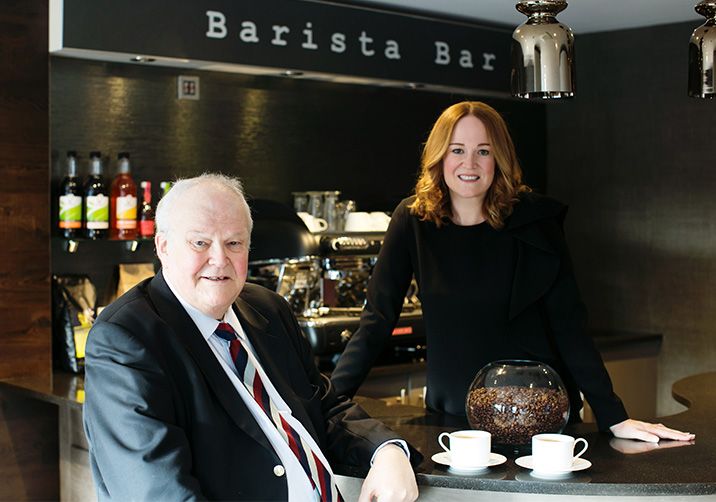 The journey begins in 1965 when Patrick Leahy and his wife Ailsa Leahy visited the Isle of Man from Africa where he was a tea broker and his son Brian was running a tea estate. Little did he know that the island would not only become his home but his family would venture into their next business phase.
After giving a talk on tea to the Rotary Club, Patrick Leahy was asked by the Villiers Hotel to test their tea as they suspected it wasn't of a good quality. As an expert tea taster and highly respected within the industry, he immediately recognised that their tea was stale.
Subsequently, Patrick saw the potential for bringing quality teas and coffees to the island. He invited his son Brian who was now working on a coffee plantation in Papua New Guinea to help him start, and so the Manx business was born.
The business began trading as Mannin Tea and Coffee from a warehouse in Jurby airfield at a time when the rents were £140 per year (a hefty amount for the late 1960's). Moving to Hills Meadow in the early 1970's and then to Spring Valley later that decade, changing the name to MATCO Foodservice.
Patrick and Brian were the original Artisans of the Manx tea and coffee industry. Their expertise allowed them to blend, roast and pack both tea and coffee to compliment the Manx water.
The business changed to MannVend in 1994 and has been run by Tracey Leahy, the third generation of the Leahy Family since 2008.The business continues to grow and develop and is probably known more for traditional workplace refreshment machines, but the supply of coffee and tea remain firmly in their proposition. With the popularity of Bean to cup machines increasing in the workplace, more and more businesses are requesting a better selection of coffee for their staff.
The board has a deep passion for supporting the local community and other Manx businesses, and they are excited to be working alongside Noa Bakehouse as a distributor for their coffee, Manx Pack providing their ground coffee beans and Fairy Bridge Teas, Isle of Man Teas and Roots Beverages, on a number of exciting initiatives. The processes may have advanced but the ideas remain the same. Good quality beans, expert roasting and grinding plus passion for the product = great tasting coffee.
MannVend acknowledge the importance of staying current and relevant while continuing to invest in new technologies. They also ensure that they invest in their staff providing ongoing training in the latest methods and machinery as well as holding regular tasting sessions on their product range.
Most of their equipment now utilises high definition touch screen technology and this prompted the introduction of advertising opportunities on the screens, which many local businesses are taking advantage of.  Media is now a new department within MannVend and one which is growing.
Working together with the Automatic Vending Association (AVA) and buying group Associated Vending Services (AVS), MannVend is well respected in the UK amongst their industry peers. Both Tracey and Brian have served on the board of AVS and in addition to joining the board Tracey Leahy leads the Marketing and Operations Committee for the group.
Looking to the future
MannVend has always looked to the future and endeavours to keep up to date with the latest innovative and user friendly refreshment technology. They invest greatly in researching and sourcing new machines which improve on taste and efficiency. Attending trade shows such as NAMA in Vegas later this year.
Investing in the Isle of Man, is hugely important to the MannVend team. They rely heavily on sourcing quality staff locally and getting involved working on new initiatives with other local family businesses such as Noa Bakehouse which is not only exciting, but the way forward.
As a family MannVend has deep roots in the tea and coffee industry, has spent 50 years building a business led by three generations of the same family and employs 30 staff, but it is important to note that they are not a huge conglomerate, they started as a local family business all those years ago, and remain so today.
"I am honoured to 'captain the ship' that my grandfather started initially and my father established.
The business has been on an incredible journey adapting quickly to economic changes and developing our offering utilising advancements in technology. 
Whilst the threat of competition increases with the internet it's important to emphasise that we have a very loyal and dedicated team who are passionate about our business and strive to deliver the best service to our customers".
Tracey Leahy, Managing Director
Customer Testimonials
"We don't need to get involved as the service from MannVend runs smoothly so we don't have to worry about the machines. The excellent standard of drinks provided now means staff can get a great coffee on site." Lee Price, Facilities Manager, Equiom
"MannVend take care of all the stock replenishment and cleaning with a regular friendly and efficient service. Their staff are professional, personable, quick to respond and a pleasure to deal with." Janice O'Connor, Snr HR Business Partner, Maitland
"MannVend's professionalism and niche servicing capability are unrivalled on the island and both Anne and myself extend a big thank you for MannVend's support over the years passed and to come. We congratulate you on reaching 50 year milestone in your business." Gary & Anne Dorling, Directors, Fancy a Coffee Limited A Costa Franchise
"MannVend have been providing PDMS with an excellent responsive and reliable service for over 20 years. They are a great example of a local supplier who are always happy to go that extra mile to provide great customer service and they make us feel like a valued customer." PDMS
Charities supported
Integrating with the local community doesn't stop at local business collaborations and initiatives for MannVend, they feel that it is vital to support as many local charities as possible, charities such as;
IOM Live at Home Scheme, which Tracey Leahy is the Patron of and which helps the older generation to remain in their own homes and organises events to prevent loneliness and isolation.
Dreamcatcher, the local charity that helps make dreams come true for local people in need. Tracey is proud to be on the advisory board of this charity.
Junior Achievement IOM, who are dedicated to helping the Island's young people gain the essential skills they need when they leave full time education. Tracey is on the board of this local charity and Christine O'Hanlon, Sales Manager, assists as a project mentor.
As part of the anniversary celebrations they have pledged to donate 50 hours of their staff time to support local charities. Please contact dawn.taylor@mannvend.co.im for details.